Jury selection is a fraught ritual, especially in an emotion-laden mass murder case. And then, with potential jurors already gathered in the courthouse, Judge Carpeneti's in-court clerk came to him with a disturbing report. Someone, she said, was in the foyer where potential jurors were waiting. A loud man. Complaining in a loud voice that the defendant wasn't going to get a fair trial in Juneau. The jury, "won't have working people," the loud man declared. "It will be nothing but government employees," he added. "They'll believe the State."
Judge Carpeneti immediately sent security out to make sure no one was talking about the case.
Someone Matches Description
As the first round of potential jurors entered the courtroom, Carpeneti's in-court clerk spotted one of the defense investigators. She turned to Carpeneti and whispered, "that's the guy who was making all the statements earlier."
The judge's jury clerk confirmed it. This was the same man she'd seen in the foyer.
Judge Carpeneti was sufficiently concerned that he held an evidentiary hearing. Phillip Weidner, after talking to his defense investigator, insisted he wasn't the culprit. When the in-court clerk took the stand, she described a man whose appearance and dress matched that of the defense investigator — and ID'd him in court as the man with the loud voice. Carpeneti's jury clerk did the same thing.
Then the defense investigator took the stand and denied the charges, saying he was not there and didn't make the statements.
Who Do You Trust
The judge resolved the credibility dispute by saying that he could believe one person was mistaken in identifying the defense investigator. He found it difficult to believe that two people could reach the same conclusion, independently of each other. The clerks, he decided, had accurately described the culprit.
Carpeneti issued a strong admonition. "If there's even a hint of a repeat incident," he warned the defense investigator, "you will be barred from this trial."
If this was a trick pulled by the defense, it marked a new low. It wouldn't surprise if it was. A loud man, indeed.
---
Excerpts from the unpublished original manuscript, "Sailor Take Warning," by Leland E. Hale. That manuscript, started in 1992 and based on court records from the Alaska State Archive, served as the basis for "What Happened in Craig."
Copyright Leland E. Hale (2020). All rights reserved.
---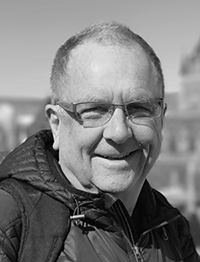 Order "What Happened In Craig," HERE and HERE. True crime from Epicenter Press.