Phil Weidner was ever the bulldog. Even with the second trial apparently going forward, he fought it at every step. He filed a double jeopardy motion alleging Peel couldn't have a retrial under the U.S. Constitution. He asked the Alaska Supreme Court to order further evidentiary hearings on allegations the state had intimidated witnesses. On top of that, he was charging the prosecution with jury tampering during the first trial.
That last charge was an explosive new twist. Jury tampering got to the heart of judicial ethics.
News of jury misconduct during the first trial came to the defense from one of the jurors, who contacted them immediately after the end of the trial, apparently in violation of Judge Schulz's order. Whether they discussed the case before they had permission to do so was an open question, but the defense soon had word that a prosecutor's secretary had visited a juror during deliberations. Based on this report, and the alleged cover-up of the incident by the prosecution, Phil Weidner was seeking a dismissal of the charges against John Peel before the Alaska Attorney General. He also brought the matter before the Alaska Supreme Court, seeking an emergency motion for relief.
Mary Anne Henry learned of the incident after the mistrial was declared. Her investigation discovered no evidence that any of her staff had met with a juror. Subsequent investigations determined that the visitor in question was the former secretary of Bob Blasco's wife, Barbara. Judge Carpeneti found himself embroiled in the matter in August, 1987, when he held a court-controlled evidentiary hearing, during which he took testimony from two former jurors and four former bailiffs.
After hearing several days of testimony, Carpeneti commented that, "the defense motion is weaker now than it was before" the testimony.
The contact, it turned out, began when some women from the juror's church "decided we were going to have a prayer meeting." They visited the juror at the Super 8 Motel during a court-authorized visitation as jury deliberations continued. The prayer apparently never took place. The church ladies didn't want to offend the juror's daughter-in-law, although a passage was read from the Bible.
The following morning, the juror mistakenly told other jurors she had been visited by "Bob Blasco's secretary." That was hardly tampering. Even if true, Mary Anne Henry pointed out, the most John Peel could expect was a retrial. 
He was getting a retrial anyway.
---
Excerpts from the unpublished original manuscript, "Sailor Take Warning," by Leland E. Hale. That manuscript, started in 1992 and based on court records from the Alaska State Archive, served as the basis for "What Happened in Craig."
Copyright Leland E. Hale (2020). All rights reserved.
---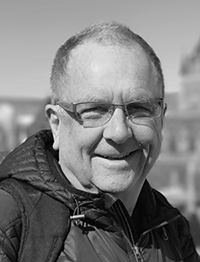 Order "What Happened In Craig," HERE and HERE. True crime from Epicenter Press.