While Stogsdill was giving Sue Domenowske the short course on the criminal justice system — and trying to put her at ease — Paul Page was busy with the line-up photos. To move things along, Stogsdill had the pair put the remaining photos in two piles. They were, in effect, sorting their memories.
In one pile were the photos they'd eliminated. Driver's license photos of Dean Moon and Jerome Keown. Two color photos of Chris Heyman. A photo of Roy Tussing. Of Mark Coulthurst. Of Chris Heyman and Mike Stewart together. Dean Moon's graduation photo. A photo of LeRoy Flammang standing with Dean Moon. Dean Moon in a T-shirt. Dean Moon with a beard and a rain slicker. Chris Heyman in rain gear.
In the other pile were the photos they were still considering. A photo of Mike Stewart standing at the side of the boat. Jerome Keown wearing a basketball shirt. Dean Moon in a Blaine High School T-shirt. Jerome Keown with his girlfriend. And there was a surveillance photo of John Peel.
Sue pointed to the photo of John Peel. She noted that it looked very similar to the skiffman.
"What bothers me," she said, "is the hair seems too light. But I'd say this individual is very similar looking to the fellow we saw." Then she added, "But I can't say positively it's him." 
Paul Page had a similar reaction. Considering the John Peel photo, he said, "He looks similar, but the person I saw looked younger."

When it came down to it, that was the best either of them could do. Too much time had passed. They'd seen too many other photographs. Their sorting was an exercise in futility.

Excerpts from the unpublished original manuscript, "Sailor Take Warning," by Leland E. Hale. That manuscript, started in 1992 and based on court records from the Alaska State Archive, served as the basis for "What Happened in Craig."
Copyright Leland E. Hale (2019). All rights reserved.
---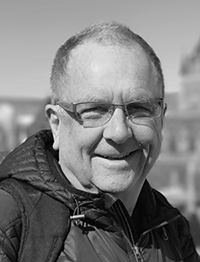 Order "What Happened In Craig," HERE and HERE. True crime from Epicenter Press about Alaska's Worst Unsolved Mass Murder.