Friday Harbor is the primary population center on San Juan Island, one of multiple islands in an archipelago that stretches north into British Columbia. It's where the Washington State Ferry docks. It's where the boat harbor sits. It's also the place where tourists inevitably land.
---
When Joe Weiss and the two cops meandered through Friday Harbor, they played like tourists. The stopped at a restaurant, stayed for awhile, lingering over whatever, then paid their check and left. They hit the bars. They sat and they sipped. They talked the talk of idle men. There was no sign of John Peel or anyone resembling the skiff operator.
The next morning — a Friday — Sergeant Flothe spotted a beat-up, red pickup truck as he walked across the motel parking lot. John Peel was behind the wheel. Flothe knocked on Joe Weiss' motel door as Peel walked behind him, toward another building. Sensing an opportunity, Flothe ad-libbed. They'd go to breakfast a bit later, he said, stepping out of the way to provide Weiss an opportunity to see their suspect.
Flothe never did know whether Weiss had spotted their man. He was more concerned about hustling himself out of the way. So the trooper returned to his room. He waited. By the time he returned to Weiss' room to get breakfast, Peel's truck was gone.
As they took their morning meal in a donut joint, John Peel reappeared. He came into the shop and sat next to four young guys who'd come in just after them. "I want to get a get look at those two guys," Weiss muttered under his breath. He was nodding toward Peel and the guy sitting next to him, a guy wearing a Moosehead beer baseball cap.
Weiss got up to get another cup of coffee and, on the way back to the booth, paused to get a closer look at the two young men. Ten minutes later, he repeated the exercise again, stopping to catch a close-up. He wouldn't get another opportunity. The young men left just as quickly as they'd arrived.
---
Excerpts from the unpublished original manuscript, "Sailor Take Warning," by Leland E. Hale. That manuscript, started in 1992 and based on court records from the Alaska State Archive, served as the basis for "What Happened in Craig."
Copyright Leland E. Hale (2019). All rights reserved.
---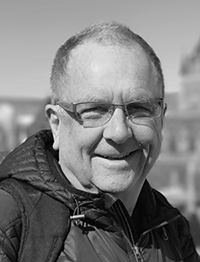 Order "What Happened In Craig," HERE and HERE. True crime from Epicenter Press about Alaska's Worst Unsolved Mass Murder.