The idea that some folks were shading the truth, if not outright lying, troubled investigators. They knew from hard experience that people close to a crime may try to protect their friends. It was time to reinterview critical witnesses. It was time to ask them the hard questions.
When Sergeant Stogsdill approached the reinterview of Dawn Holmstrom, he did so with the idea of opening one more fissure in John Peel's alibi. Holmstrom's assertion that John Peel had accompanied her to the bank on the day of the fire was crucial. But the troopers now suspected that this woman — one of John Peel's former girlfriends — would lie for him.
Stogsdill asked Holmstrom if it was possible that Larry Demmert's girlfriend was correct when she thought John Peel hadn't been with them. Was it possible that they had seen Brian Polinkus instead? No, Dawn insisted. She was with John Peel, on the way to the bank to cash a paycheck, when they saw the smoke from the Investor fire. They split up after that, when John went to a pay phone and made travel arrangements to fly out of Craig the following afternoon. And while her other assertions seemed to shift with the tides, on this much she was immovable.
Before leaving Bellingham, Stogsdill also talked to former Libby 8 crewman LeRoy Flammang. Stogsdill was concerned about John Peel, but also wanted to know about Dawn Holmstrom's relationship with Dean Moon. He asked Flammang if he recalled Moon ever spending the night with Dawn. Flammang said they hadn't, then added, "I had the impression that she and Peel were going out."
By the time Flammang left the Bellingham police station, Sergeant Stogsdill knew he had a problem. And the name of that problem was Dawn Holmstrom. The worst thought was that she was lying when she said she'd seen John Peel in downtown Craig. Lying when she said they were together when she walked toward the bank. Lying when she said they were together when they saw the smoke coming up from the Investor.
---
Excerpts from the unpublished original manuscript, "Sailor Take Warning," by Leland E. Hale. That manuscript, started in 1992 and based on court records from the Alaska State Archive, served as the basis for "What Happened in Craig."
Copyright Leland E. Hale (2019). All rights reserved.
---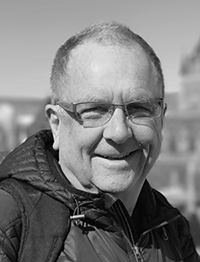 Order "What Happened In Craig," HERE and HERE. True crime from Epicenter Press about Alaska's Worst Unsolved Mass Murder.