Eight people had seen the skiffman. Four of them had talked to him, however briefly. Six of them said he resembled John Peel. Mary Anne Henry was set to parade those six before the jury. She ran into trouble before she could get witnesses one and two on the stand.
The defense had filed a protective order, seeking to prevent the state from questioning Bruce Anderson and Jan Kittleson about their feelings toward Brant McGee. McGee, it seemed, had promised to send them a tape of their May 1985 defense interview. He never did. Angry, the two had gone to the prosecution with their complaints.
Judge Schulz heard them out before they testified. If Kittleson had any bad feelings, they had dissipated and Schulz ruled she couldn't be asked about them at trial. But her husband still had ill-feelings toward the defense, and Schulz thought it perfectly legitimate for the state to introduce "demeanor evidence."
Being Cautious
When it came time for Anderson and Kittleson to testify, however, both sides were cautious. For the state, the most important information seemed to be their description of the skiffman. Consistent with their earlier interviews, and grand jury testimony, they described him as a man in his early to mid-20s, with light to dark brown hair, a clean-shaven face, a slight-to-medium build and a height of about 5-foot-10-inches.
They differed as to whether the skiffman wore a baseball cap and glasses. Kittleson said he did, Anderson said he couldn't remember. Significantly, the prosecution didn't ask either witness to identify Peel as the skiffman in court. And when the defense cross-examined the pair, they too declined to ask if they could identify Peel as the skiffman. In that moment, the eight people who'd seen the skiffman — already thinned to six — seemed even more precarious.
---
Excerpts from the unpublished original manuscript, "Sailor Take Warning," by Leland E. Hale. That manuscript, started in 1992 and based on court records from the Alaska State Archive, served as the basis for "What Happened in Craig."
Copyright Leland E. Hale (2020). All rights reserved.
---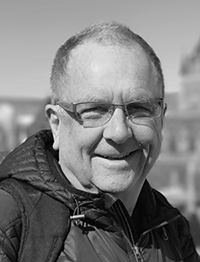 Order "What Happened In Craig," HERE and HERE. True crime from Epicenter Press.