In this installment of Impeachment, Alaska Style we address the "incidents" that kicked off legislative inquiries and led to potential disaster. Judging this along the "money, power, sex" continuum, this was a money play caught in the headlamps of a power-struggle. Sorry. No sex.
---
In 1984, the FBI investigated allegations that several state employees were pressured into attending two birthday party fund-raisers for Governor Sheffield. Federal prosecutors found "no credible evidence a violation occurred," but it wasn't a good look. And it wasn't the only shady-looking deal hovering around the Governor.
As part of the Governor's business-oriented platform to consolidate state offices in geographically central locations within Alaska cities, he directed the Fairbanks Development Authority to identify priority areas in the central core for redevelopment. The Development Authority eventually made a map with two priority areas identified. It was supposed to be good government 101.
But parallel to that process, a developer group with ties to the Governor purchased an office building in Fairbanks that closely matched the Governor's consolidation requirements. That group had its own sense of style — and developed a parallel redevelopment map. It was a map so small that only its recently purchased property was within the redevelopment boundaries.
As the process moved forward, the developer group convinced the Governor's chief of staff, John Shively, to make changes to the Fairbanks Request for Proposal (RFP), which was the official solicitation mechanism for the office building. In a 1988 Supreme Court of Alaska ruling, the court noted that those changes effectively made the developer group the "only potential bidder who could meet the requirements," meaning that the Alaska government's leasing agent "would have to proceed to contract on a direct negotiation, 'sole source' basis." Small wonder the RFP was never made public.
Attorney General Gorsuch, learning of the deal, immediately impanelled a grand jury. He had to. One of the partners of the development group, Lenny Arsenault, was a major gubernatorial fundraiser. The $9.1 million lease deal had every appearance of being "tainted by favoritism."
The topic quickly turned to an impeachment inquiry. Lawyers with Watergate experience soon found themselves in Juneau, the state capitol.
The grand jury was advised by George Frampton, who had worked in the Watergate special prosecutor's office. At the end of its deliberations Frampton, and assistant Chief Prosecutor Dan Hickey, presented the grand jurors with two options: indict the Governor or issue a public report on their investigation. Impeachment in Alaska requires approval by two-thirds of the state Senate, or 14 of 20 votes. If impeached in the Senate, Sheffield then faced trial in the 40-member state House of Representatives. At Frampton's urging, the grand jurors chose to issue a report strongly critical of Sheffield's actions.
They didn't have the votes. But things didn't end there. The hot potato — a hot potato short on style points — was now in the hands of the state Senate.
On July 15, 1985, that body began a special session to consider the grand jury report. Should the vote succeed, Sheffield was to stand trial. The Senate was advised by Sam Dash, former chief counsel of the U.S. Senate Watergate Committee. Governor Sheffield hired a big gun of his own, Phillip Lacovara, who had served as assistant to Watergate special prosecutor Leon Jaworski.
Adding to the circus atmosphere, the hearings were covered "gavel to gavel" across Alaska, on both television and radio. The Senate additionally decided that night sessions would be held, so more people could watch. In the midst of this, attorney general Gorsuch cancelled the lease agreement and, on the heels of that, resigned his office.
Even after hearing new evidence that his chief of staff, John Shively, was deeply implicated — he had lied to state investigators and destroyed a public document to protect Mr. Sheffield from political embarrassment — the case against Sheffield ultimately fell apart.
The Senate abandoned its move to remove the governor and gutted a proposed resolution that said he'd done something wrong. They instead filed a rules committee report saying there was insufficient evidence of wrongdoing to impeach the Democratic governor. Sheffield, in his typical style, responded with a prepared statement.
"I wasn't a professional politician when I became governor 2 1⁄2 years ago, and I'm still not, but I've learned a lot about politics in that time. Frankly, a lot of what I've learned disgusts me."
Sheffield was only the 15th U.S. governor to undergo impeachment proceedings. It had been more than half a century since Henry Johnston of Oklahoma, who had a running feud with the legislature, was removed from office for incompetence in 1929.
Whatever Sheffield's vindication, it wasn't too difficult to handicap his chances in a reelection bid.
A pollster found that Sheffield's negative ratings exceed his positive ratings by roughly 2-to-1. Republicans, smelling blood, lined up in droves to oppose him. Seven of the gubernatorial candidates were Republicans. That was probably six too many. Also running were Mary Ann O'Brannon, a Libertarian, and Joe Vogler from the Alaskan Independence Party.
Sheffield's close brush with political death also attracted a Democratic primary challenger, Steve Cowper, a Fairbanks lawyer who'd come close to beating Sheffield in their 1982 primary contest. Weakened by the impeachment inquiry, Sheffield also faced the reality of a billion-dollar budget shortfall. He lost the primary to Cowper, who went on to win the Governor's race in style.
---
Excerpts from the unpublished original manuscript, "Sailor Take Warning," by Leland E. Hale. That manuscript, started in 1992 and based on court records from the Alaska State Archive, served as the basis for "What Happened in Craig."
Copyright Leland E. Hale (2019). All rights reserved.
---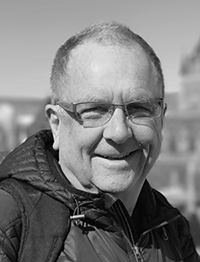 Order "What Happened In Craig," HERE and HERE. True crime from Epicenter Press about Alaska's Worst Unsolved Mass Murder.