His encounter with the notorious Investor skiffman had been brief. Fisherman Joe Weiss was at the Craig cold storage dock when he watched the Investor's skiff come in "at full speed and [the driver] shoved it into reverse full force, bringing the nose right up to the dock." The skiff operator then shut off the engine, grabbed the bow line, quickly tied the skiff to the dock and leapt out of the boat. Weiss greeted the young man, but was ignored. "He walked by me up the dock," Weiss recalled.
Despite the brevity of their encounter, Joe Weiss now had a singular opportunity.
March, 1984
His best intentions notwithstanding, Joe Weiss didn't make it north to Bellingham over Christmas. He made the trip over Spring Break instead. He was still considered a crucial witness. He was the only eyewitness who hadn't been bombarded with hundreds of photographs. No one had made him pick the most likely the suspect out of every new batch of pictures. His image of the suspect was the most uncontaminated one of the bunch. What Joe Weiss offered was the potential to unmistakeably identify the prime suspect. After the latest round of witness statements, troopers believed that man was John Peel.
Stogsdill's intention had always been to take the California fisherman on a surveillance trip. They would go to places where John Peel might be. But Stogsdill had a slight difficulty. Who was going to be his escort? Stogsdill was out — Peel knew him. Ditto for Sergeant Miller. Same for Bellingham Detective McNeill and AST Sergeant Holland.
The fresh faces belonged to Sergeant Glenn Flothe and Investigator Darel Galyan. Flothe had already done some work on this case, having been associated with disastrous Indiana trip to see Tyrannosaurus Rex Mullins. And he and his partner Darel had recently made a major case by bringing in serial killer Robert Hansen for the murder of seventeen prostitutes in Anchorage. As far as the troopers were concerned, these two were at the top of their game.
As soon as Weiss arrived in Bellingham, the undercover troopers took him to the Cocoanut Grove tavern to wait for John Peel. Peel never showed. After a while, they found out why: John Peel wasn't in Bellingham. He was in Friday Harbor, a small town in the San Juan Islands, just west of Bellingham. If they wanted Joe Weiss to see John Peel, they would have to follow him there.
---
Excerpts from the unpublished original manuscript, "Sailor Take Warning," by Leland E. Hale. That manuscript, started in 1992 and based on court records from the Alaska State Archive, served as the basis for "What Happened in Craig."
Copyright Leland E. Hale (2019). All rights reserved.
---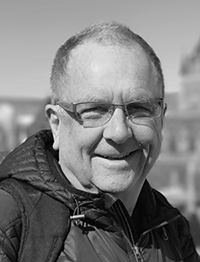 Order "What Happened In Craig," HERE and HERE. True crime from Epicenter Press about Alaska's Worst Unsolved Mass Murder.