The highlight of the increasingly nasty exchanges between counsel came, predictably enough, in the form of another defense request. John Kenneth Peel, it seemed, wanted to add himself as co-counsel. Or his lawyers did. As Brant McGee explained out of court, admitting Peel as co-counsel, in a so-called "hybrid defense," would allow the defendant to question witnesses and address the judge. What McGee didn't point out was that making Peel co­-counsel had all the advantages of putting him the stand — and none of the disadvantages.
A hybrid defense is one in which the defendant decides that he and his counsel – either assigned or retained – together will take an active, verbal part in the defense at trial. Hybrid representation encompasses the notion that the accused will generally make the decision as to the tasks to be performed by each. The role of each might include conducting voir dire of the jury, examining witnesses, making arguments, presenting motions, and other acts involved in the presentation of the defense.

The Accused as Co-Counsel: The Case for the Hybrid Defense, 12 Val. U. L. Rev. 329 (1978).
As co-counsel, John Peel could make statements in court without having to worry about being cross-examined by the prosecution. Mary Anne Henry told the judge she would prepare a written response to the request within a week. Judge Schulz ultimately decided to turn back Peel's request to act as co-counsel.
But before reaching that decision, Schulz made a ruling on the defense motion to dismiss the indictment.
On Thursday, January 9th, Schulz told John Peel and his attorneys that their arguments against the State's case hadn't persuaded him to dismiss the second indictment. The following day, during his formal ruling, the judge elaborated. He told the now bitter adversaries that the evidence against Peel was crucial and disputed. But, he added, "there is enough evidence in this case to warrant a trial. I'll leave the question of guilt or innocence up to the jury."
With this decision, the case against John Kenneth Peel reached a major milestone. For the time being, at least, there was little to decide save his guilt or innocence. After all the contentious debates and personal acrimony, the attorneys were ready to select a jury.
---
Excerpts from the unpublished original manuscript, "Sailor Take Warning," by Leland E. Hale. That manuscript, started in 1992 and based on court records from the Alaska State Archive, served as the basis for "What Happened in Craig."
Copyright Leland E. Hale (2020). All rights reserved.
---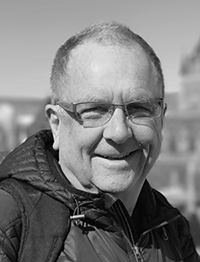 Order "What Happened In Craig," HERE and HERE. True crime from Epicenter