Ketchikan, Alaska, December 3, 1984 The so-called drug-witnesses were, at the moment, a distraction that Judge Schulz tried hard to swat away. But Schulz had a graver worry. He was deeply disturbed by the Rosellini letter. The allegation that the prosecution was intimidating witnesses was not something he was going to take lightly.
Still, the charges surprised him. He knew the prosecutors and had never seen any indications they were inclined to such behavior. Perhaps that influenced him to approach the matter with some caution. In a November 21st hearing, he granted Weidner's request to admit the Rosellini letter into evidence but, at the district attorney's request, withheld it from the public record. Schulz noted that the letter had "no specific allegations" of prosecution misconduct and contained only one item of possible concern.
But Schulz also wanted to get to the bottom of the allegations. The November hearing had done little to illuminate things. Holmstrom and Polinkus had legal representation of their own, and Ketchikan attorney Mike Thompson told the court that his clients would plead Fifth Amendment rights against self-incrimination if called to the stand.
To break the logjam, Schulz directed Thompson, the district attorney and a representative of the state Department of Law to discuss partial immunity for the pair before the next hearing in the matter. Schulz's directive set the stage for the December 3rd hearing. That hearing didn't start out promisingly.
Brian Polinkus didn't want to be on the witness stand. His attorney didn't want him there either. Thompson was still urging his clients to seek protection under the Fifth Amendment against self-incrimination. They still didn't have immunity. To have them appear in court, Thompson added, "would be, in fact, a waste of time." But Judge Schulz, even in agreeing that it was likely Polinkus and Holmstrom would say little, refused to quash the subpoena. He wanted to include the witnesses' situation on the court record, and the only way to do that was to have them appear.
In the end, Polinkus only answered a few questions. He was, he said, intimidated before his grand jury testimony and subjected to "abusive" treatment. Assistant district attorney Blasco and Detective McNeill, he said, had sworn at him and accused him of lying.
"They started out okay, but then they just got totally flakey."

AST Sgt. Chuck Miller on Investor witnesses
When it was Dawn Holmstrom's turn to take the witness stand, she was a bit more effusive. That was ironic, because Schulz had noted that Holmstrom seemed to have the greatest possible exposure to perjury charges. "There's no way to reconcile what she said at the grand jury and then in the letter from Rosellini," the judge said, adding that her Fifth Amendment tactic was "no sham."
On the stand, Dawn answered, "No," when asked whether Bob Blasco made any threats. She answered, "No," when asked if she was threatened. She said, "No, I don't think so," when asked if Blasco talked to her about perjury. She was "scared," she said, by grand jury proceedings she didn't understand. And, she said, she felt intimidated when authorities questioned her.
---
Excerpts from the unpublished original manuscript, "Sailor Take Warning," by Leland E. Hale. That manuscript, started in 1992 and based on court records from the Alaska State Archive, served as the basis for "What Happened in Craig."
Copyright Leland E. Hale (2019). All rights reserved.
---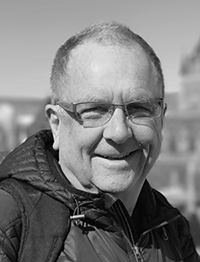 Order "What Happened In Craig," HERE and HERE. True crime from Epicenter Press about Alaska's Worst Unsolved Mass Murder.