Like Dean Moon, John Peel presented a difficulty. Although he elicited strong feelings from Jerry Mackie at the Hill Bar on the day after the fire, three witnesses failed to identify him as the skiff operator. Equally important, fellow Libby 8 crewmember Dawn Holmstrom provided him an alibi. She told Sergeant Miller she was with John Peel on the day of the fire, when they walked to the bank with their skipper's girlfriend. The time, she thought, was 3:00 or 3:30 pm — or "whenever the fire occurred." [1]
The implication was simple: John Peel couldn't be in two places at the same time.

But in reviewing his notes from the time, Stogsdill began to question the quality of the walk-through conducted by Capt. Kolivosky at the Hill Bar. Perhaps John Peel had seen the witnesses coming — the Hill Bar had large picture windows overlooking downtown Craig — and went into hiding while Bruce Anderson and Jan Kittleson tiptoed through the bar.
Or perhaps they were looking for someone wearing glasses. John Peel wasn't wearing glasses. But Mark Coulthurst wore glasses. Wore black-rimmed glasses much like those described by Jan Kittleson. Could the killer have grabbed Coulthurst's glasses as part of his disguise?
On the other side of the ledger was John Peel's eerie match with every item on the blackboard grid. Was he in Craig at the time of the murders? Yes. Did he fit the physical description of the skiffman? Yes. Was he an experienced fisherman? Yes. Was he an expert skiff operator? Probably — he had been the skiff operator on the Kit, the boat he'd fished with Mark Coulthurst. Did he know the Coulthursts? Yes. Did he know the crew? Yes. Did he know the Coulthurst children? That was also a "yes." At the very least, the troopers decided, John Kenneth Peel deserved a second look.
Even with their list narrowed considerably, however, the troopers couldn't forget the possibility that someone not on their grid had committed the crime. The Canadian murders — which closely resembled the Investor murders — still hadn't been solved. The possibility remained that both crimes were committed by the same perpetrator.
---
[1] Dawn Holmstrom's "memory" would later prove to be extremely troublesome. So troublesome that, during the trial, she testified as a hostile witness. In court she claimed, too often for comfort, "I don't remember," when asked about crucial events in the days after the murders.
---
Excerpts from the unpublished original manuscript, "Sailor Take Warning," by Leland E. Hale. That manuscript, started in 1992 and based on court records from the Alaska State Archive, served as the basis for "What Happened in Craig."
Copyright Leland E. Hale (2019). All rights reserved.
---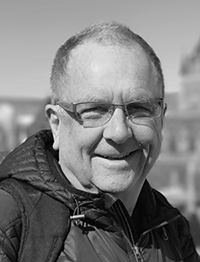 Order "What Happened In Craig," HERE and HERE. True crime from Epicenter Press about Alaska's Worst Unsolved Mass Murder.