How do you select a jury? There are as many theories as there are lawyers. But attorneys know what they want. They want jurors who will take their side of the argument and vote accordingly. That's where the jury expert comes in.
What are they looking for? Turns out, it's more a process of elimination. For sure, leave off folks with obvious bias. Some criminal defense experts advise against folks in "authoritarian" type jobs, like the military, police or government bureaucrats. They don't want crime victims either. As you might guess, prosecution experts want jurors with those very same personalities.
Beyond that, there are focus groups, mock trials and questionnaires. None of which prevent a jury expert from taking it even farther. Like declaring he can read prosective jurors like a book and guarantee a sympatheic panel. It's great work if you can get it.
Jury Guru
In State v Peel, that jury expert was one Josef Princiotta. With a beard, rose-tinted glasses, a handful of rings and long black hair tied in a ponytail, Princiotta looked like a refugee from a rock video.
His resume read like that of an eccentric scientist who's discovered he's an artist — or perhaps it was the reverse. The inventor of record for several patents held by TRW, and a former electronics engineer for a Nike missile site, he had also designed jewelry worn by the Playmate of the Year. And sculpted a thirty-foot whale prominently displayed outside a downtown Anchorage office building.
From Scale Model to Ears
Princiotta's entry into the arcane world of the law first came as the creator of scale models for courtroom exhibits. One of his most celebrated scale models helped acquit a man of murder. That same man later admitted his guilt and went on to murder again, something Princiotta came to regret.
But his claim to fame in the Peel trial was his self­-proclaimed ability to select juries solely on the basis of their physical characteristics. According to Princiotta, the most important part of a prospective juror's anatomy was his or her ears, the lobes of which represent the human head.
According to some theories, people with pointed ears (B above) are "keen observers and scrutinizers," which for a jury could mean someone not easily swayed by narrowly constructed theory of the case. People with attached ear lobes (F above) are said to be empathetic and understanding of people's issues. Presumably, they'd be sympathetic to someone who allegedly murdered eight people. You get the point.
Finding the absolutely best ear is hard
One consequence of that arcane approach to jury selection was… well… after nearly two months State v. Peel still didn't have a jury seated. Finding all the absolutely best ears is harder than you think.
---
Excerpts from the unpublished original manuscript, "Sailor Take Warning," by Leland E. Hale. That manuscript, started in 1992 and based on court records from the Alaska State Archive, served as the basis for "What Happened in Craig."
Copyright Leland E. Hale (2020). All rights reserved.
---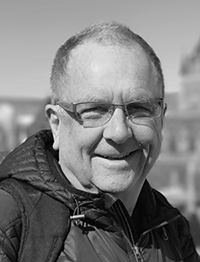 Order "What Happened In Craig," HERE and HERE. True crime from Epicenter Press.