After two weeks of tedious one-by-one questioning, the judge dismissed a total of three people on the grounds of financial hardship. The defense once more swung into action. They petitioned the state Court of Appeals to block the dismissal of the potential jurors, on the grounds that it skewed the jury against working-class people.
"Doing a petition like this is nothing but a delay tactic," proclaimed Mary Anne Henry. "It's too late anyway. The jurors have been excused."
"It's definitely not a delay tactic," responded Phil Weidner. "It's our position that these people did not specifically ask to be off the jury."
After reviewing the defense petition, the Court of Appeals "denied it on the merits." The defense immediately called for a state Supreme Court review, and the state's highest judicial body promised an expedited review. A few hours later, four members of the Supreme Court refused to review what Peel's petition had characterized as Schulz's "personal and arbitrary" dismissals of the three prospective jurors. Schulz smiled broadly when he got the news.
Peremptory challenges could now begin. It promised another round of tedious questioning. Instead, it paved the way for more courtroom controversy.
The defense asked the judge to take away the prosecution's peremptory challenges, arguing that state statutes didn't support their use by the state. Schulz turned them down.
In the first of its eight peremptory challenges, the state eliminated a Ketchikan Daily News copy editor who said he wanted to see evidence of a motive for the killings — the prosecution said it would not try to establish a motive — and a middle-aged woman who said she wanted to see "one hundred percent proof" of Peel's guilt, not just proof beyond a reasonable doubt.
The defense, on the other hand, used one of its fourteen peremptory challenges to remove a man who said he expected the defense would have to prove John Peel's innocence. They also eliminated a school principal who said he had testified in a child­ abuse case and was sorry to see the defendant acquitted. Dismissed for cause was a woman who said she expected Peel to take the stand during the trial. Also excused was the co-publisher of the Ketchikan Daily News who, Schulz noted, was the third of four top Daily News employees to be called as a prospective juror.
---
Excerpts from the unpublished original manuscript, "Sailor Take Warning," by Leland E. Hale. That manuscript, started in 1992 and based on court records from the Alaska State Archive, served as the basis for "What Happened in Craig."
Copyright Leland E. Hale (2020). All rights reserved.
---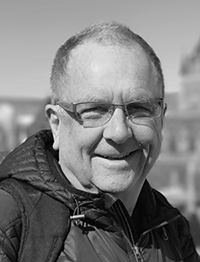 Order "What Happened In Craig," HERE and HERE. True crime from Epicenter