Peel's only option was to continue what appeared to be a losing fight against extradition in Whatcom County Superior Court. His attorney had already scheduled a hearing to request a writ of habeas corpus. But when Michael Tario appeared in court, he said that his client might agree to waive extradition and return to Alaska voluntarily for trial. "If everything is in order, we may just go to Alaska because he's bailable up there," Tario noted. "We're not here to throw a bunch of chewing gum in the cogs."
They could win the bigger battle, the logic went, by losing this smaller fight.
On Wednesday, November 8th, Tario stopped the fight. Negotiations between John Peel's defense attorney and Mary Anne Henry paved the way. Peel's defense demanded two conditions. They won that round when a judge ordered no photographs of John Peel during his transfer to Alaska and barred the transporting officers from talking to him about the case.
John Kenneth Peel arrived in Ketchikan later that same day. No sooner had his 8:40 p.m. flight landed than he was whisked by helicopter from the airport apron to the jail. His arraignment was scheduled for the next day, before Judge Thomas Schulz.
At John Peel's arraignment, the accused showed up in the courtroom wearing a brown woman's wig, a long brown costume beard and mirrored sunglasses. There are no photos of this iteration of John Peel [1]. Mary Anne Henry asked Judge Schulz to order Peel to remove his disguise. The judge refused, ruling that Peel was entitled to wear a disguise during preliminary hearings.
[1] The judicial ruling not to photograph Peel had, in this case, carried over to the courtroom. This was effectively a demand for double protection. No photographs but, just in case, he'll be in disguise. 'Tis a pity, though. I'd love to see that photo.
---
Excerpts from the unpublished original manuscript, "Sailor Take Warning," by Leland E. Hale. That manuscript, started in 1992 and based on court records from the Alaska State Archive, served as the basis for "What Happened in Craig."
Copyright Leland E. Hale (2019). All rights reserved.
---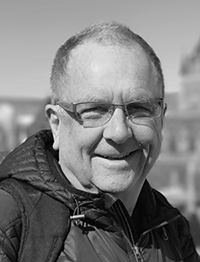 Order "What Happened In Craig," HERE and HERE. True crime from Epicenter Press about Alaska's Worst Unsolved Mass Murder.