December 3, 1984 (cont.) With the assertions of witness intimidation blunted by Fifth Amendment protections, the defense assault on the prosecution case took several turns as the day wore on. First, they tried to put Bob Blasco on the stand. Judge Schulz denied the request, saying his testimony wasn't crucial because there were others present who could address events during witness interviews. Their next tactic was to accuse the prosecution and police of foul play.
"What we have here is a pattern that establishes cover-up," defense attorney Brant McGee told the judge.
Defense attorneys claimed that authorities misrepresented statements by Peel when they quoted them to the grand jury. Weidner pointedly emphasized the misquote on the grand jury transcription of Peel's March 24, 1984, interview with Sergeants Galyan and Flothe.
He told Judge Schulz that the grand jury was told that Peel said, "I'm scared, man. I can't believe the things I did in there." Weidner said Peel actually told investigators, "I'm scared. I can't believe you think I did that."
"One of the reasons the indictment was brought back," Weidner told the judge, "was that what was misrepresented to the grand jury as an admission was really a protestation of innocence."
The prosecution did what they could to fire back at Phillip Weidner. They admitted exhibits that, they said, demonstrated Weidner's conduct on previous cases. According to the affidavits from Anchorage attorneys who had faced Weidner in the past, the Peel case wasn't the first time he had made accusations of prosecutorial misconduct.
"We're asking the court not to give them as much weight as if this is the first time he's ever accused anyone" of bad prosecutorial practice, Mary Anne Henry said in introducing the documents. "It is still our position that the evidence does not prove what he alleged. He hasn't produced any evidence."
The prosecution was also preparing to file requests that Schulz strike from the record all allegations by Weidner and McGee of witness intimidation. Out of court, Henry claimed that Weidner was using "red herrings" to deflect the evidence against his client.
Judge Schulz, meanwhile, remained troubled by the allegations. He hadn't heard anything so far that caused him to lend any weight to the intimidation described in the Rosellini letter, but the latest hearing hadn't resolved those issues either. Whatever the truth of the matter, the fight between defense and prosecution had taken another turn toward nasty. It would stay that way.
---
Excerpts from the unpublished original manuscript, "Sailor Take Warning," by Leland E. Hale. That manuscript, started in 1992 and based on court records from the Alaska State Archive, served as the basis for "What Happened in Craig."
Copyright Leland E. Hale (2019). All rights reserved.
---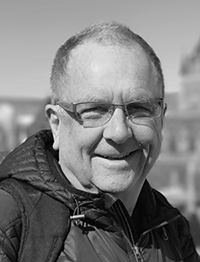 Order "What Happened In Craig," HERE and HERE. True crime from Epicenter Press about Alaska's Worst Unsolved Mass Murder.